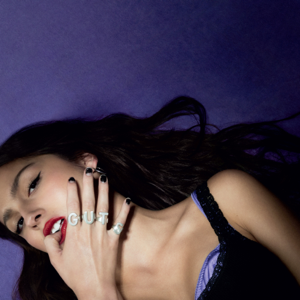 After two long years, the wait for another Olivia Rodrigo album after her record-breaking debut is finally over. Guts, Rodrigo's sophomore album, came out on September 8th and explores the same themes as her Grammy-winning Sour, including "growing pains," heartbreak, jealousy, and of course, the "good old fashioned teen angst" she's praised for.
But sonically, the two are mirror images of each other. While Sour was mainly softer ballads with some light rock influences, Guts is flipped, with its punchier instrumentals and vocals that toe the line between singing and speaking.
The two are both a kind of grab bag of concepts and styles, but are somehow still tied together with a beautiful bow. And in Guts, you can hear the way Rodrigo has matured since writing "Drivers License" at 17.
"Vampire" was the first single off of the album, released June 30th, and I am unashamed to say that I listened to it on repeat for at least a week. When taken at face value, the lyrics detail a relationship with an older person who exploited Rodrigo's fame, and her vocals are immensely satisfying, the peaks and valleys in the perfect places. Metaphors are something that Rodrigo does beautifully, and "Favorite Crime" was my favorite off Sour for that reason: most of the song was told in allusions to criminal activity. While the vampire metaphors aren't exaggerated to the same extent, it works just the same, and the accusation in the words "blood sucker" alone I think more than makes up for it.
Story continues below advertisement
This is immediately followed by "Lacy," which is almost a complete 180 with its whispery, dreamlike vocals akin to a known friend of Rodrigo's, Conan Gray. It's hauntingly beautiful and is absolutely perfect for the creeping darkness of its lyrics. Jealousy is an extremely hard topic to articulate outside of cliches, something that Rodrigo herself has tried her hand at in "Jealousy, Jealousy," and I think she impossibly hit the nail right on the head here. It starts out like she's speaking of a friend and slowly unravels until the compliments are gone and the song is left to be about the singer, not the comparisons. I feel like the only word for it is stunning, and "I despise my rotten mind and how much it worships you" might be the most beautiful lyric I'll hear all year.
"Ballad of a Homeschooled Girl" is where those rock influences that I mentioned earlier come into play, and out of all the songs on her debut, it's most comparable to "Brutal." With the same general vibe, the same self-deprecation, and similar vocals, this ballad focuses more on social anxiety and doesn't take itself seriously. Case in point: "Can't think of a third line." (And we can't forget the long string of la-la-la's that follow it.)
Then I heard the line "2+2=5" in "Logical" and almost dismissed it for that alone, but I'm endlessly glad I kept listening anyway. It's grown on me—as in, it's been stuck in my head more days than not—and other than that line, the lyrics feel like a more mature version of "Traitor." There are a multitude of callbacks to "Vampire" including lying, being convinced, castles, and being much younger than the other person, but in the end, it sounds like another story of manipulation and falling in love despite your good judgment.
"Get Him Back!" is an exercise in double meanings, the lyrics switching between wanting to get revenge and win someone over. And that line between speaking and singing? It's right here. This song is the line. While the verses and bridge are practically said, the chorus sounds like most of her others: strong and impactful.
This is in direct contrast with "Pretty Isn't Pretty," which is interesting if nothing else. The breathy vocals that remain pretty consistent over the entire track are reminiscent of a Gracie Abrams song, and the lyrics are much the same. It details how no matter what you do or what you buy, beauty standards are impossible to achieve. Personally, it's not my favorite song due to the specificity of the lyrics, but it is catchy and as a Gracie Abrams fan, I don't think it's bad by any means.
And then of course "Teenage Dream" sits as track 12, and it's an exceptional ending to a sophomore album. The first verse is about a yearning to be older and the second is about fearing growing up, with the chorus being about the present and fearing that she's already peaked. Also, the first half of the bridge is in the falsetto she uses frequently in her bridges (Driver's License, Deja Vu, and Good 4 U to name the most notable) and God is it impactful. As a senior in high school, as an almost 17-year-old, as someone who doesn't know where any of the time has gone, I get it. Slower songs are not my favorite and never have been, but this might be one of the few exceptions.
Overall, it's not a perfect album. I'm not a huge fan of every single song and as someone who places a lot of value on words, every once in a while I'll hear a choice that just doesn't seem to fit right or a line too on the nose and cringe. This is all to say that just like with Sour, there are a few songs I'm not absolutely in love with or impressed by. But I can hear the growth sound-wise and lyrically, and I'm excited for what's to come.
And as much as I would love to, you can't ignore Rodrigo's age, especially when it plays such an important role in her music. Hearing someone only two years older than you echo your own thoughts is comforting in a way very little is, especially now. There's something to be said about lamenting jealousy, awkwardness, and feeling like you'll never be good enough but knowing the same is felt by a three-time Grammy winner.
Her music feels vulnerable and real and raw in a way that's practically tangible. When I say I'm already anticipating what such a force of nature will put out next, I really do mean it.
You can listen to Guts on any music streaming platform and buy the album anywhere music is sold.