Club Rush Introduces New and Returning Clubs
Clubs are an amazing way to find a community of people who have similar interests, backgrounds, and goals as you! We had over a dozen clubs showcased during Club Rush this year so if you didn't have a chance to talk to all of them then here is a run down of what these clubs have to offer!
Lobo Lunatics
Advisor: Mr. Wong
President: Michaela Louis, Junior
They go to games and cheer on our teams. They're there to promote school spirit in the audience.
No official meeting times yet but you can see Wong about how they will meet during games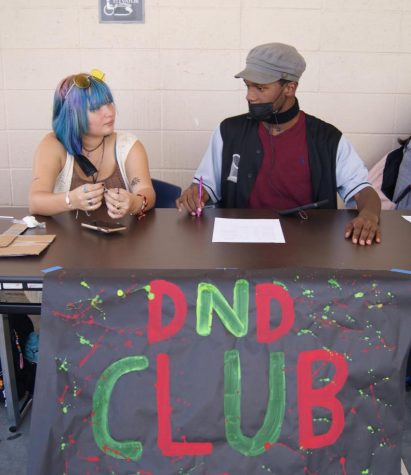 Curious Rollers (DnD Club)
Advisor: Mr. Tootla
President: Rufaro Foreman, Junior
They are on a mission to introduce people to the popular fantasy role-playing game Dungeons and Dragons. They offer knowledge and experience for people who don't know a lot about the game.  
Meet every Friday after school in B404
Debate Club
Advisor: Mr. Bezner
President: Hayley Hernandez, Senior
Debate about current and past issues or whatever a member would like to debate upon. They plan on having a class-like structure and in the future aim to have full-fledged competitions within the club.
Meet on Tuesdays in C411 during Lunch
K-pop Club
Advisor: Ms. Matthews
President: Yvette Deloach, Junior
K-pop club will be dancing and performing during school events and even outside of school. They want to learn more about Korean culture by immersing themselves in the language, and going on Korean-centric field trips.
Meet Mondays, Wednesday, and Fridays during Lunch in D209
S.O.M.M. Club (Society of Movie Makers)
Advisor: Ms. Kasuyama
President: Juan Melendez, Senior
The whole club can pick a movie in the genre they are focusing on that week. They analyze those films and discuss what kind of shots they used, what screenwriting they did, etc. Club president is going to be teaching them how to screenwrite, how to get camera angles right and how to storyboard. 
Meet up 2 times a week every other week, during Lunch in C308
Robotics Club
Advisor: Ms. Moulton
Officers: Benji Boyer (Senior), Isaac David (Freshman), Aaron Del Gadillo (Freshman)
Over the course of the semester they build a robot and enter it into a competition against other robotics clubs in the district. If they win, they enter the semifinals and then the finals!
Meet Mondays and Thursdays after school in D413
NHS (National Honors Society)
Advisor: Ms. Weil
President: Jester Snitily, Senior
They do food drives, ocean cleanups— general community service activities. It looks really good on college applications. You get a gold seal on your diploma as well as a blue and gold cord during graduation. 
Meet every other Monday during lunch in B302
Latino Club
Advisor: Ms. Flores
Presidential elections will be held soon
Listen to Hispanic music, can take food to eat during lunch and hangout. They have conversations about each other's culture and take pride in it. They do ofrendas for Dia De Los Muertos, and announcements for Hispanic Heritage Month. 
Meet every two Fridays in D417 during Lunch
RDP Dance
Advisor: Ms. Vallejo
President: Abijah Walker, Senior
They dance at pep rallies and games to various pop and R&B songs. Additionally, they do fundraiser events for uniforms. Bring school spirit and provide another outlet of entertainment other than cheer. 
Practice every Wednesday and Thursday 3:30-5:30 PM in the Dance Room
Film Club
Advisor: Mr. Cawood
Co-Presidents: Alondra Ramirez (Senior) and Hanna Contreras (Senior)
They discuss their favorite movies, and will be making short films. They will be bonding over the shared interest of all aspects of film. 
Meet every other Tuesday during lunch in D210
First meeting: September 13, 2022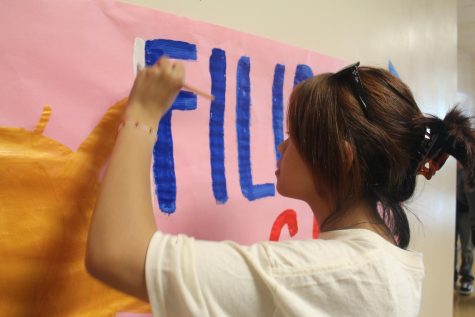 Filipino Club
Advisor: Dr. Vieira
President: Toni Ledesma (Senior) Vice President: Lyeza Magsino (Senior)
First few meetings will be introductions and getting people's food allergies, and in the next meetings there will be a slideshow about the history of the Philippines. It is a fun, laid back hangout that exposes people to Filipino culture. 
Meeting Fridays after school in C208
First meeting: September 15, 2022
Key Club
Advisor: Dr. Vieira
President: Yuki Lee, Junior
Student-run club, under a district wide organization that focuses on doing service events and outlook communities. Helps gain required service hours for graduation while also having fun volunteering at events that you can choose to do. 
Every Wednesday in C208 during Lunch
BSU (Black Student Union)
Advisor: Ms. Maddox
President: Quincy Jackson, Senior
Discuss the importance of acknowledging your black identity, culture, and what is going on in society. They're going to be doing tours of historically black colleges that are in the area and going to cultural black events. Events and activities will be depending on the schedules of the students that are in the club. 
Meeting every other Thursday during Lunch, meeting place is most likely MPR
VIPS FOR 9th & 10th (Vice-Provost's Initiative for Pre-College Scholars)
Advisor: UCLA Student
President: Cailah Edwards, Senior
You take a college course with a professor from UCLA during the summer, in that you get a college GPA already. This club is designed to help you with the interview to get into the said summer program and provide you with useful knowledge about universities and college life. This program is mostly aimed at black and brown students to build a sense of community with other students that look like them. They select up to five students for the program which gives a good amount of range for people who are interested. 
Meetings are either on Monday or Friday during Lunch in the Library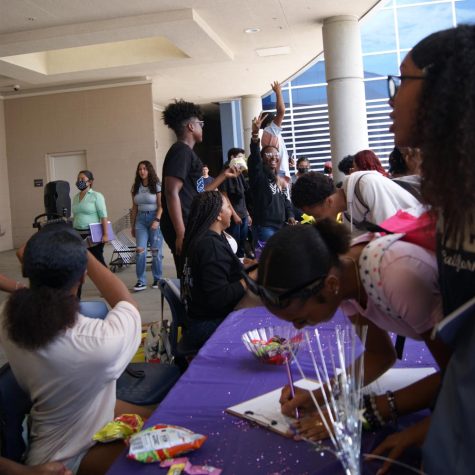 CSF (California Scholarship Federation)
Advisor: Ms. Vallejo
Room: B201
You get a seal on your diploma after 2 years of being in the club. You will have a better opportunity to get scholarships and receive service hours. 
They are not meeting just yet but you can check out Ms. Vallejo's room for more information about the group. 
Some clubs have already started, but it is never too late to show up and join. Be sure to check in with the advisors and presidents of these clubs for the official meeting times and places because the time and places listed are subject to change. Listen to the announcements as well; they could have information about the first meetings of clubs. There are also available group chats for certain clubs so make sure to check in with club presidents for those numbers too.