Honoring Kelle Bruckman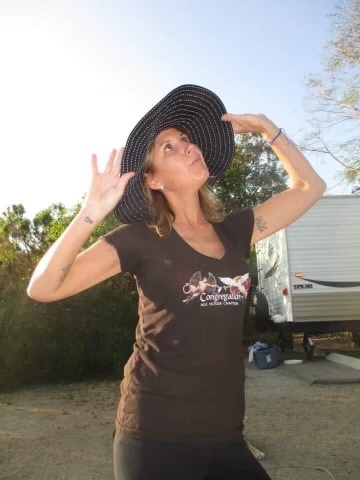 Recently, our school has lost a strong advocate for students and animal rights with the passing away of Kelle Bruckman, one of our special education teachers. She's been a teacher at our school since 2012.
Bruckman was known for being very caring, and for living her life to the fullest, and is missed by students and staff. Ms. Maddox, the special ed coordinator at our school, knew her well and had a lot to say about her friend. 
"She was one that always told you how she felt, never afraid to speak her mind," Maddox said. She described her as the biggest animal lover on the planet and stood up for animal rights along with being very dedicated to her job as a special education teacher.
"My favorite memory about her was when she made me try a vegan donut and I was against it but once I tried it, it was the most delicious donut I ever had," Maddox said. 
Furthermore, Ms. Bruckman made her think differently about animal rights, especially horse racing, bringing a lot of light into that industry, Maddox mentioned.
Students had much to say regarding their strong teacher and the impact of their lives. Samantha Ibarra Ceja and Esperanza Gonzalez are both 12th grade students of Ms. Bruckman at our school. They described her as a strong woman who wanted the best for her students, who was there for them when needed.  
"She always went over beyond for us, checked on us when we needed it and there for moral support, she was like a mentor, a mom, and a protector to most of us" said Esperanza. 
"She would always put us first, and would scream at us but in a good way she was very helpful for us to pass all our classes and didn't want to see us fail and wanted us to be successful" said Ceja. 
Esperanza claims her favorite memory about Ms. Bruckman was over Zoom, when she wasn't doing too well, but Ms. Bruckman gave her a speech that she needed to hear right then and there, and got her through the rest of the year. Samantha states her favorite memory of Bruckman was when she would talk to them about fostering dogs, which was inspiring and liked how she would get on everyone's "ass" to pass their classes. 
Samantha and Esperanza also share the impact Ms. Bruckman gave them. "She was a mentor, she helped me learn how to help myself and how to advocate for myself and to become the person I am now, that helps her kids now that she's not here" said Esperanza. " She helped me, all of us, to have faith in each other and not doubt each other, to believe in each other in passing our classes, graduating, turning in work, and taking tests," said Samantha. 
Lastly, Ms. King, who was Ms. Bruckman's assistant since 2012. "She was a ball of fire, wonderful fire, she was fierce, she was caring, loved the kids, loved the job, loved what she did and loved her animals, activist for animals."  She was the one who lived life to the fullest, said Ms. King. 
"It was breast awareness month and we had our shirts, and socks, and she (Ms. Bruckman) said let's do something different, she said give me one of your socks and I'll give you one of mine. I looked at her and said but mine are pink and white and yours are black and pink. Well let's just be different." said Ms. Bruckman and so everyone looked at us walking down the stars crazy" said Ms. King. 
In addition, Ms.King claims that Ms. Bruckman understood the needs of the students, especially high school students, and knowing that the students want to graduate and just being there for the students was an impact towards Ms.King .