All-Star Fan Voting's Prioritize Hype Over Talent?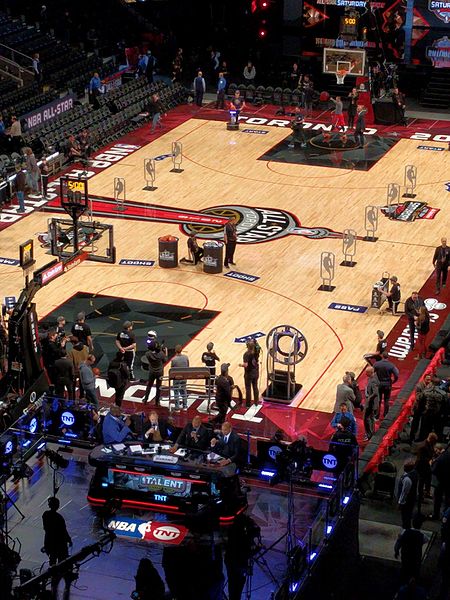 The All-Star weekend is around the corner and fans have already started the voting process in hopes to see their favorite players on the court. Looking at the All-Star roster so far there are yet again NBA players you would not expect to see ranking so high in the second fans returns in the All-Star voting list. Shockingly, as of now, Klay Thomson is ranked eighth as a guard in the western conference though he can't physically play and Alex Caruso is ranked at the tenth spot in the same category. Now, this poses a question. Should the All-star weekend roster consist of fan voting or should it be based on talent and statistics? Personally, I believe both should be a factor in moderation.
As a tradition, the NBA All-Star weekend consists of certain events such as the All-Star game, three-point contest, dunk contest, and the skills challenge. This year All-Star weekend was scheduled to be hosted in Indianapolis, Indiana in the Bankers Life Fieldhouse. However, due to the pandemic, they have moved All-Star weekend to be hosted in Atlanta, postponing Indianapolis from hosting the event until 2024. Despite the complications covid-19 has placed on the NBA, All-Star weekend is still scheduled to take place on Sunday, March 7th.
Looking at the fan vote returns for All-Star weekend, players such as Thomson and Caruso have many people scratching their heads as a considerable amount of fans have given them a spot over other athletes. While Klay Thomspon is a very talented shooting guard for the Golden State Warriors, as he averaged 21.5 points, 3.8 rebounds, and 2.5 assists per game in the 2018-2019 season according to basketball-reference.com, the thing that puzzles me is why fans are trying to get him on the all-star roster while he is currently out for the season due to tearing his Achilles tendon during a workout last year. While the league wishes for his recovery back on the court, he is projected to miss the entire 2021 season including the All-Star weekend. While this could be a gesture to lift Klay Thomson's spirits I believe that this act is pointless because no matter how many votes Klay Thomson receives he is not physically healthy enough to step on the court which can potentially worsen his injury.
Another NBA guard that has shocked the league in All-Star voting is Alex Caruso of the Los Angeles Lakers. While Caruso is a fan favorite for the Lakers, often nicknamed "The Bald Eagle" and "G.O.A.T" by LeBron himself, he is built around the hype as his stats are underwhelming compared to other athletes on the fan vote return. During the 2020-2021 season, Caruso is currently averaging 5.4 points, 2.4 rebounds, and 2.3 assists per game according to basketball-reference.com. While I understand that fan voting is a vital aspect of selecting NBA All-Stars I believe that fan voting has prevented several talented athletes from appearing on the roster. As of now, several guards such as DeMar DeRozen and Devin Booker produce more on the court that can easily take Caruso's spot on the list if you were to determine All-Stars purely on their talent and statistics alone.
While there have been questionable names in the mix, there have been some pleasantly surprising outcomes from the fan vote returns. Though they are no longer in their primes Carmelo Anthony has been listed as the tenth most voted athlete for the western conference's frontcourt, and Derrick Rose who was the eighth-most voted guard for the eastern conference. While I disagree with the voting turnout for Klay Thomson and Alex Caruso, I am in support of these two players to make an All-Star appearance. Compared to Klay Thomson and Alex Caruso, Derrick Rose and Carmelo Anthony are well and can participate in the All-Star game and events. Rose and Anthony would give the event a sense of nostalgia. If you have ever seen NBA basketball in the 2000s and early 2010s, you would know how much these two players have impacted the NBA. In a sense, it's paying homage to these two athletes' careers, similar to seeing other stars such as Kobe or Micheal Jordan in All-Star weekend though they were past their primes.
During their primes, Carmelo Anthony was considered to be the best small forward in the league over other forwards such as LeBron James. As a lethal scorer with elite footwork, Carmelo had utterly changed the game with his iconic triple threat play style consisting of jabs, and pump fakes to create space for the open shot without taking a dribble. During his prime, Carmelo averaged 28.7 points, 6.9 rebounds, and 2.6 assists per game according to basketball-reference.com. As of the 2020-2021 NBA season, he now averages 13.5 points, 3.4 rebounds, and 1.2 assists per game.
On the other hand, Derrick Rose has been notorious for one of the biggest "What if's" in NBA history. Though his career has been severely tarnished through injuries, he was once the youngest player to earn the MVP award at only 22 years old. If there were one word I would describe his game during his prime it would be "explosive." During Rose's prime, he was one of the most athletic point guards we have seen as he was known for flying high and punishing the rim with vicious dunks paired with his lightning-fast speed and agility. During his prime, Rose averaged 25 points, 7.7 assists, and 4.1 rebounds per game according to basketball-reference.com. Though he was riddled with injuries throughout his career, he has still shown flashes of greatness as he now averages 14.3 points, 4.2 assists, and 1.9 rebounds per game. Overall I hope to see these as All-Stars showing a glimpse of their prime during the All-Star game.
While fan voting may be beneficial to see and honor players who displayed greatness during their primes, fan voting can pose a problem for players who are going under the radar as the media seems to revolve around the hype instead of talent and statistics. An example of this would have to be DeMar DeRozen of the San Antonio Spurs. If you know anything about the Spurs franchise, it is that they have gone under the radar despite being one of the more successful franchises as they have recorded 5 championships starting from 1999 to 2014. The Spurs were seen as monotonous, famous for their unselfish textbook playstyle, the team winning and efficiency were valued over highlights. However, the Spurs are a completely different team with a roster of promising young players developing their potential. So this topic still puzzles me on why the Spurs and their star player DeMar DeRozen has been forgotten while being one of the key factors for the Spurs success this season in an extremely competitive western conference.
I believe one of the factors to DeRozen's biggest draw-backs in popularity would be his efficiency on the San Antonio Spurs during the last few seasons where his game was extremely underwhelming. While in his time on the Toronto Raptors, DeRozen would play some of his best basketball averaging almost 30 points a game. Through the past few seasons with the Spurs, his points per game have decreased as he is now averaging 20 points, 6.9 assists, 5 rebounds, and 0.8 steals per game according to basketball-reference.com.
While many people would look at his averages decrease offensively and assume that he is no longer the dominant presence that he once was, that is far from the truth. While he is averaging fewer points than in his days in Toronto, people don't really take his efficiency into account. DeRozen may be averaging 20 points this season, however, he is arguably just as good as he was in Toronto as his assets and skills are being manipulated through coach Popovich's system. Since DeRozen has played for the San Antonio Spurs, we have arguably seen him at his most productive this season. As of now, DeRozen has been shooting at a higher percentage from mid-range as well as from the three-point line averaging 51.4% from mid and 33.3% from beyond the arc. This is notably impressive considering that he has taken fewer shots from mid since his rookie season in 2010 while shooting more from the 3 point line despite his poor efficiency from deep throughout his career signifying that his game is still expanding. Most importantly, it is worth mentioning that DeRozen is now playing as the Spurs' power forward despite playing as a shooting guard throughout most of his NBA career. With this in mind, DeRozen is playing against bigger and lengthier defenders with a higher offensive efficiency rating while averaging more assists and rebounds than we have seen throughout his career averages. While DeRozan is leading the Spurs he is contributing to setting up his teammates such as Dejounte Murray, Keldon Johnson, and Lonnie Walker Ⅳ who are potentially future franchise players for the San Antonio Spurs.
Looking back at the fan's voting returns, it's disturbing to see DeMar DeRozan get snubbed from being an All-Star yet again. This is particularly disheartening to see considering that as well as he has been playing, he hasn't made an All-Star appearance since 2018. Better yet not a single Spurs player has made an All-Star appearance since LaMarcus Aldrige in 2019.
While evaluating the fan voting returns it seems as if DeRozen should be labeled as an All-Star this season considering that Andrew Wiggins is seventh in votes as a guard for the western conference above athletes such as Christian Wood and Brandon Ingram. Considering that Wiggens is averaging 17.6 points, 4.7 rebounds, and 2.2 assists per game according to basketball-reference.com. While these numbers are solid, they are considerably lower than Christian Wood and Brandon Ingram who are ranked lower as of now. These numbers are even lower than what DeMar DeRozan is producing this season while he is not even on the list. This example shows the problem of the All-Star voting system as the hype around a certain player is taken as more valuable than statistics and efficiency which can be depressing to see considering many talented players are snubbed from being an All-Star each year.
The most suitable example of hype overpowering stats would be how the media has seemingly stripped all the spotlights from Zion Williamson. Despite being one of the most sought-after rookies to watch last season as he displays raw athleticism as a dominant big man. As of this season, Zion is averaging 24.4 points, 6.8 rebounds, and 2.9 assists per game according to basketball-reference.com. Despite these numbers, his effort is rarely heard of as the media has seemingly swarmed over to LaMelo Ball who is the next big name as a rookie. While LaMelo is playing great basketball I believe people are overhyping him to the point where that's all people talk about. At some points, commentators seem ecstatic over every time he touches the ball. While this serves as entertaining basketball it leaves many other athlete's efforts in the dark as LaMelo is currently the player making headlines, the player which everyone is watching as of now. While Zion is still on the All-Star voting list this system runs by hype and the media has put him and others under a shadow.
Despite the problem with the All-Star voting system, it does not need to be completely changed. Evidence of fan voting can be seen through Zach LaVine as he currently ranks fifth in easter conference guards. Though I believe he should be ranked above Jaylen Brown based on performance alone, it is pleasant to see his game recognized as he is arguably playing the best basketball of his career. Known for his extraordinary vertical jump and dunking skills, he has proven to us that he is not a one-trick pony and has shown that he can shoot the ball as well as he can dunk it. As of this season, LaVine has averaged 28.1 points, 5.4 rebounds, and 5.3 assists per game according to basketball-reference.com.
In order to resolve this issue, I believe that fan voting should be adjusted where fans' votes still impact the selection of athletes who become All-Stars yet in moderation. As of now, fan votes account for 50% of all votes when determining which athletes will become All-Stars. As a remedy fan vote should have less of an impact, roughly around 30% of all votes. By doing this the impact of player and coach voting would have a higher impact while taking fan voting to account for the fans to still be involved while not completely disregarding statistics that have kept athletes such as DeMar DeRozan from getting snubbed from All-Star weekend.