Midsemester Check-in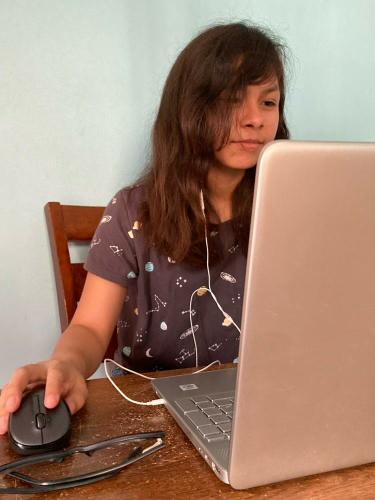 Sometime around March, Rancho Dominguez Preparatory closed down for quarantine due to the increase in cases for Covid-19. As we know we've been working hard, students studying and working; teachers teaching their lessons and presenting lectures through distance learning.  For some, though, its been proven to be a lot more difficult than expected. 
Patricia Olvera, a senior, talks about the struggles and the benefits of online schooling, and her own mental well-being. 
"I think that it does have some benefits such as it's easier to "get to" school on time and being able to stay in my pj's most of the time," she said. "However it's harder when it comes to online assignments because it involves being at my laptop or phone all the time. It's more stressful to do school from a screen than in person because there is more of a connection with both other students and teachers by having school in person. As of now, it's been okay because I've at least got a little more used to doing most things online but it kind of sucks that my senior year will be spent like this."
Although it's much easier to get to class on time it's still difficult for Olvera to be sitting for hours in front of her computer trying to get the assignments done.
Valentina Herrera, a sophomore, talks about her own personal struggles having to stay online.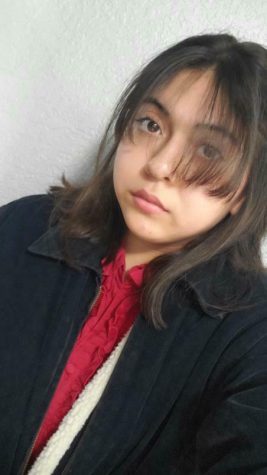 "So my thoughts on social distance learning is kind of a mix, I like it but at the same time I don't but I do find I get more work done through social distance learning," she said. "My mental state isn't the best because sometimes I can't handle what's going on, but it's not that stressful to be doing school online. I don't like human interaction and I enjoy only having to talk to the teachers without them needing to see me."
Although some students find that distance learning is rather more difficult, there are others shown here with Herrera who actually find it more easier to do school online.
Hannah Contreras, a sophomore, explains how doing school online has affected her socially.
"I just feel like social interaction is a big issue here, like I never see anyone and at home it's hard to concentrate, and to be honest my mental health isn't the best," she lamented. "The assignments keep piling up which causes me to become overwhelmed and makes me want to just give up at times. It's less stressful in that I don't have to wake up early and drive to work. I also feel I have more time to take care of personal life things."
 Meeting deadlines and getting assignments done on time really seems to be taking a toll on students. Sitting in front of a screen for hours tends to be draining enough and now with multiple assignments thrown at them all at once, it's no surprise that so many students like Contreras are feeling stressed.
English teacher Ms. Flores mentions the problems she faces being forced to stay at home, limited to supporting students through Zoom. 
"The part that is more stressful is not seeing the students face to face and being able to help them. That's an important part of teaching that I definitely miss." 
School's transition to distance learning has also affected teachers as much as students considering they can't be there to give their students that one-on-one support in person.
Spanish teacher Ms. Rodriguez discusses the challenges of transitioning to a completely new style of teaching. 
"Honestly, it is overwhelming and very stressful. For me, it was a difficult transition going 100% digital. However, I'm navigating Distance Learning continuously and doing the best I can to make sure students are learning. To add, with the help of friends and colleagues, it's been a swifter process." 
On the bright side teachers and students alike are learning more about how to navigate different things online so it makes distance learning a lot more easier on everyone.
As mentioned before with students, mental health hasn't been the best as of recently due to the isolation from being in quarantine for so long. Ms. Lopez-Flores, Rancho's newest personal support worker discussed her thoughts on students and overall how they're doing mentally with online learning.
"Overall, students are experiencing higher levels of stress, anxiety, feeling of loneliness and a sense of loss," she described. "School is already challenging for many and adjusting to online learning can be difficult. Furthermore, students are not able to celebrate milestones. Many students were not able to walk the stage for graduation, dance at prom or enjoy their senior trip. 
"COVID-19 has brought many changes and has placed students in an unusual situation," she noted. "However, difficult situations bring about change and growth. I encourage you all to actively look for positives every day. I also suggest that students avoid jumping to conclusions and/or stay stuck reminiscing about the past. Constantly thinking about the past can cause a sense of sadness and loss because we are wishing that things were "back to normal". It's important to be mindful and practice focusing on the now."
As much as we wish everything could go back to the way it was before COVID-19, sadly we can't do anything about going back in time, but what we can do is move on with life and hope for the best and for the virus to die down.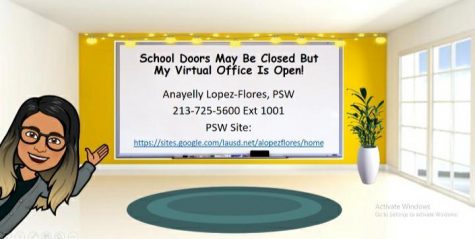 Ms. Lew shares her thoughts about distance learning and the overall concern the staff and herself has about student engagement in the online classrooms. 
"We all agree that distance learning is challenging, I think it's challenging for teachers and students as well as parents and families. One of the many challenges we face with distance learning would have to be technology, we've had teachers whose internet goes out and they can't get on zoom and their students get frustrated or students are unable to log onto Zoom or Schoology, so I think that's a big one. 
"Another concern we find is engagement, it's challenging with many students and we don't know how engaged they are when it comes to their classes. We know that they're there, we see their names but we don't see their faces and we don't always see them talking so it's hard to know if they're engaged or listening in class or maybe at home taking care of other responsibilities. Now the grades, if you look at the positives, so many of our students are attending classes on a daily basis and our students are communicating with their teachers but I think it's hard to provide that one on one support. So I am concerned, our teachers are concerned-our staff are concerned that not all of our students are passing and what we are identifying and what our concern is that students are attending their classes, so they're in class but not always doing the work outside of class to turn in. So the good thing is that we still have almost half of the semester left so students definitely have a chance to make up their work and pass their classes." 
Even though teachers are glad to see their students joining their zoom meetings on time their concern is whether or not students are fully paying attention or the students are just logged on and not paying attention at all.
When asked about the possibility of students returning back to school Ms. Lew notes the ambiguity of the situation. 
"That's a question that really we have no exact timeline because so much of whether or not we can return to school is going to be based on Covid-19 data throughout our state-throughout our city, so before we can even consider opening schools we need to make sure that LA county COVID cases have gone down".
Students and teachers are gonna have to wait a little longer before schools open up again, at least only until COVID-19 cases drop. As much as both groups want to go back to school, sadly COVID-19 cases seem to have risen by a staggering amount rather than go down as the district had hoped for.
It seems like we still have to wait a while before being able to go back to school, and although distance learning has proved to be a challenge for everyone we can still pass if we all put in some effort. As long as everyone cooperates and continues with the safety procedures to ensure that less people become contaminated with Covid-19, then the chances of students and teachers returning to school will be greatly improved.