Ubisoft Forward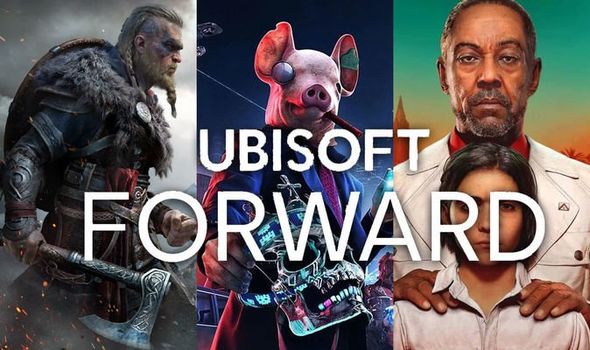 All around 2020 has been a rough year but with Ubisoft, there's something to look forward to. Despite repeated criticisms of the past, Ubisoft strives to level out an experience that is now dominant online: showcases of upcoming games. Although Sony and Microsoft are neck and neck competitors, Ubisoft, although partnered with Microsoft, displayed their games without the big party bias of one company, but most gameplay was captured on the new Xbox. Truly it was an event for any video game fan to enjoy, as the cancellation of E3 (an in person gaming convention,) was definitely a sad one in the gaming community. Ubisoft who owns many subsidiary companies, is responsible for games such as Assassin's Creed, Rayman Legends, Splinter Cell, Far Cry, The Crew, Prince Of Persia, Rainbow Six, and The Division Series, to name a few. 
Now as many may know, 2020 comes with many cancellations and goodbyes, Ubisoft had delayed their 2020 projects in the fall of 2019. This was due to a decline in sales after the unimpressive performances of Tom Clancy's Ghost Recon Breakpoint and Tom Clancy's The Division 2 respectively. Ubisoft yet again followed the same formula that existed in almost all their games. When this first happened, Yves Guillemot (Ubisoft's CEO) stated Ubisoft internally refers to its reimagined self as 'before The Division' and an 'after The Division'. The same stands true but just throw Ghost Recon in there. Therefore for months, gamers were concerned when their most anticipated games such as Watch Dogs Legion, Gods of Monsters, and the next installments of Assassin's Creed or big updates in Ghost Recon Breakpoint would come out. In May, the silence broke as Assassin's Creed Valhalla was announced and as Microsoft held their games conference and Sony was set to have theirs a month later. July was a pretty good time to strike. 
On July 12th, Ubisoft held their conference to which I was an anticipated viewer as I waited for Watch Dogs Legion to be given a new release date. I was not disappointed because even despite the wait, Ubisoft had essentially revamped the game and made it almost unrecognizable than it was before. That game will release October 29, 2020, for current and next-gen consoles along with pc.  As the world of hackers steps into the future, they must defend freedom and take on a totalitarian state in the city of London. If things couldn't get any better, Far Cry 6 was announced for February 21st, 2021. But like all Far Cry games, it wouldn't be perfect without the reveal of the villain who is now played by Giancarlo Esposito who is known for many groundbreaking shows in the past decade but for the sake of the school audience, the Mandalorian villain himself. Other things included were more information such as Assassin's Creed Valhalla which releases November 12th, 2020 as revealed by Microsoft's virtual event. To continue, other games that have already been released such as Hyperscape, Brawlhalla Mobile, and Tom Clancy's Elite Squad were previewed and life for a gamer couldn't be any better. 
But now as console releases are around the corner, the next few months will be the most jam-packed as on September 10th, Ubisoft held their second conference which announced upcoming big title updates to Tom Clancy's The Division 2 and Ghost Recon Breakpoint, The Crew 2, For Honor, and Hyperscape. The show-stealer however would be in my opinion Rider's Republic but Immortals Fenyx Rising was just as good for fans interested in action-adventure games. Also just like Watch Dogs Legion, Gods Of Monsters received a massive overhaul and is now Immortals Fenyx Rising which will be available on December 3rd for current and next-gen consoles. Other titles announced include Just Dance 21 and how could I forget, Prince Of Persia: The Sands Of Time Remake comes out January 21, 2021, and Scott Pilgrim Vs. The World: The Game – Complete Edition is expected to arrive this holiday season. 
Of course, I could only cover some of the major news but along with the conferences of Sony and Playstation, it is very appreciated and can even be rewarding when you watch live streams from your favorite video game companies. I was literal on the rewards as Ubisoft gave away Watch Dogs 2 for free on the PC if you were logged in on your Ubisoft account and watched the stream. They gave away free cosmetics for Watch Dogs Legion and Hyperscape, just to name a few.