Quarantine Playlist
Since we are all stuck at home having absolutely nothing to do we should all try to relax, grab our earbuds, and start listening to some good music!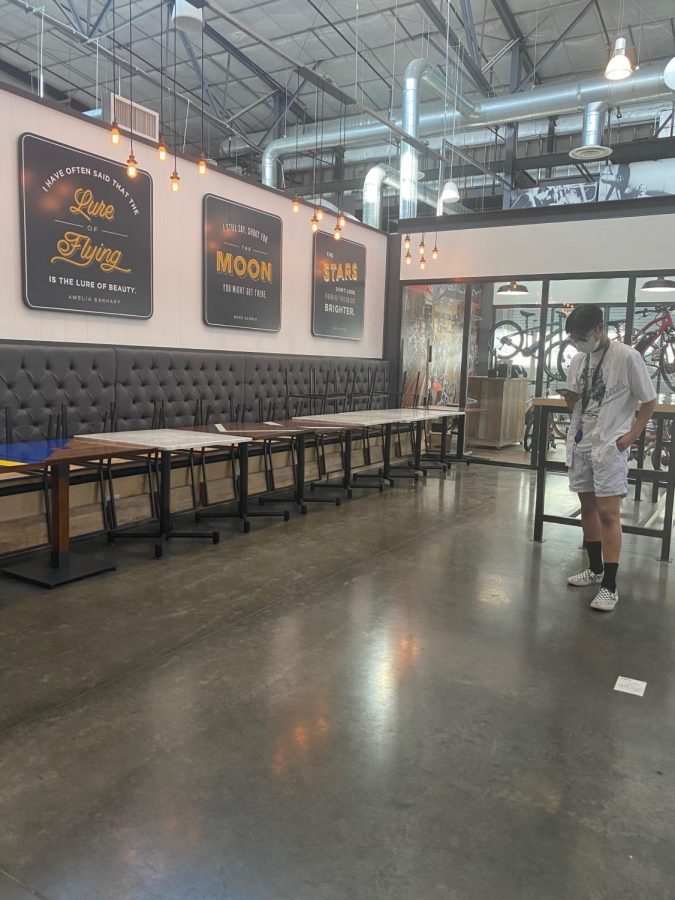 This playlist should get you grooving and forgetting that you were even in quarantine to begin with. So, here are some of my favorite songs you should give attention to and start jamming out of your boredom.
The Strokes – At The Door
Everyone should be checking out The Strokes new album "The New Abnormal", but if I had to pick one it would be this song. The synths, the songwriting, and Julian's vocals are all incredible on this track.
Childish Gambino – 19.10
A song from an amazing jack-of-all-trades man. Donald Glover pulls another great track out of his mind with this sweet, bumping track about the beauty and the baggage that entails being Black. His singing on this is absolutely stunning.
Twenty One Pilots – Level of Concern
A change in TOP's ever changing style in music, Tyler and Josh come back with a single that talks about the situation we are currently in and expresses it with poppy sounds and sweet electric guitar riffs. 
The Weeknd – Blinding Lights
Okay, this was bound to be added. It's a song from 2020 that sounds like it belongs in the 80s. What more could you ask? It is a great song with a great synth-wave vibe.
Oliver Tree – When I'm Down
A beautiful throwback in Oliver Tree's discography. There's something magical about that production from Whethan, and the vocals from Oliver are blessings to the ears.
Feather – Nujabes
This is a song that details how to better yourself, and how to better the environment around you. It is a wondrous jazz inspired hip-hop song that everyone deserves to listen to once. It certainly makes you feel like you're floating like a feather.
Paralyzed – DM Galaxy
I've been getting back into some EDM during this quarantine, and now is the time for people to give this song a listen. It may not be your style, but I love the vocals coming from guest singer Tyler Fiore and the way the production melds together. Definitely give this one a try.
The 1975 – It's Not Living (If It's Not With You)
Another great synth-pop track. An absolute favorite of mine. While the lyrics are very dark when looking under the positive facade of the track, it does not take away the danceability of this song!
BROCKHAMPTON – HOTTIE
This song just radiates positive energy. It is about hanging out with your friends and embracing the uncertainty in their lives, so what else is there to say about this song? A stunning track with a killer hook and vibe that is unrivaled.
Clipping.- Nothing is Safe
You'd be surprised to believe that the same person who played Thomas Jefferson in Hamilton also is in one of the most experimental hip-hop groups of this generation. Daveed Diggs creates a harrowing setting about cops breaking into a trap house in the perspective of the people within the house. It's a crazy ride hearing this song, so check it out.
ALI – Wild Side
While this track is from a Japanese band, it is riddled with influences from hip-hop, jazz, and of course, rock. What truly made me want to add this song is the outro that is not only an amazing tonal shift in the song, but it is completely sung in English and works well within the song.
Foster The People – Don't Stop (Colors on the Walls)
I'd advise you to listen to this song while watching the music video for it. It is a crazy visual for one of the best songs in FTP's discography and definitely does not deserve to be overshadowed by their biggest hit "Pumped Up Kicks".
Glass Animals – The Other Side Of Paradise
A jewel in the indie pop scene, Glass Animals' "The Other Side Of Paradise" is one of the best written songs they have created. The narrative that is made, the production, and everything in between makes for one of the most pleasing songs to listen too.
Catfish and the Bottlemen – Homesick
A classic garage rock sound, CATBM has made some of the catchiest rock music in a long time. If you want more great songs by them, check out their debut album, "The Balcony". You will not be disappointed in the quality and effort put into that debut.
Wolf Parade – I'll Believe In Anything
This song has so many emotions brought into it. While the vocals may be off-putting to some, it is worth listening to a song that seeps out pure positivity. It is a love song about doing anything for someone, about believing in anything. If you have to pick any song to listen to, please pick this gem.
Charli XCX – claws
Now here me out, the song is poured with a crazy amount of auto-tune, but it works entirely in its favor. The production and the bubblegum bass inspired style to the song makes it one of the more unique tracks in the list, but is most surely worth a listen.
Clairo – Flaming Hot Cheetos
Indie darling Clairo has been making big waves in the indie scene, but the song that blew her up should be revisited. The lo-fi inspired beat that is meddled with Clairo's somber vocals are a delight to hear again. 
The Avalanches – Since I Left You
Plunderphonics is a very lovely genre of music. It is a genre known for using several samples and merging it into one new composition. The Avalanches are arguably the ones who made it popular with this track and their aptly-named album of the same name. There is something magical that is brought forth with this song. May it be the vocals or the production, you cannot deny the stellar aesthetic of this song.
Kate Bush – Running up That Hill (A Deal With God)
A great throwback with one of the most influential art pop artists out there. Arguably Kate Bush's Magnus Opus, this is a song that everyone should know for how gorgeous her vocals come across here.
 Kiss Me – Carole and Tuesday
A stunning duet song, vocalists Br. XX and Celeina create a satisfying harmony in this anime-based track. While I do say it is anime, it is completely sung in English, so you can gladly be able to understand everything.
These twenty tracks will surely get you through these boring days in quarantine. If not, do not fret as you can always find more music suited for your taste! It is all about finding something new, so always be willing to try something new! It definitely wouldn't hurt to try.