SHADES Program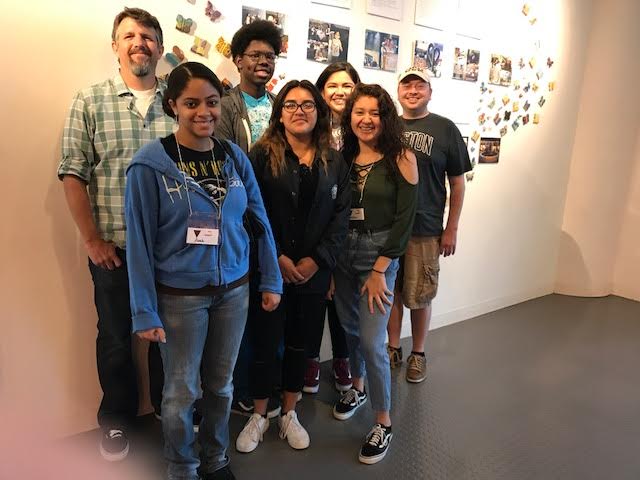 Jennifer Laredo, Opinions Editor
September 27, 2017
SHADES Summer Program
SHADES (Stop Hate and Delinquency by Empowering Students) is a week long program that six of our very own Rancho students had the privilege to attend at the Museum of Tolerance in Los Angeles. This program provides youth juror training where participants engage in many critical thinking activities and workshops. The activities and workshops help participants become informed and effective jurors.
"I'm going to be honest – I went into SHADES absolutely regretting signing up, but after a few days I began to really enjoy my time there and became very involved with what I was being taught. By the end of the week I truly felt that it was worth my time and I was left with more of an open mind, " said Carolina Camacho, a junior who attended SHADES.
Each day consisted of something different. Participants had the chance to explore the museum itself and listen to speakers talk about their personal experiences and other critical information. The speakers varied from the testimony of Holocaust survivor Ella Mandel to ex-white supremacist Tim Zaal.
After the speakers spoke, participants would be bombarded with information about hate crimes/incidents, alternative sentencing, restorative justice and the art of listening as well as questioning. Participants learned how the past experiences of hate all tie together and why SHADES is such an important program.
During these workshops there would be activities that everyone would participate in. For example Sunshine Daye put our knowledge to the test in an odd way. The participants were instructed to make the sound of the animal we were given, we were to only look down, not show anyone what our animal was and get into a group. Everyone however got in groups of the same noise.
"This is what society does, it creates the idea of being in separate groups and being with those you belong," Daye says. "We have to break this idea because often some people don't find a group to belong and are seen as a weakling."
Other workshops also taught us how important it is to have certain skills so that the jury is effective. Aziza Hasan another speaker taught the participants that listening and questioning are vital to the jury. She put us in groups of three and we were to listen to one person and make the exact same shape the speaker was making while sitting back to back. It was challenging for some yet others managed to pull through.
Developing the certain skills an effective juror need was preparing us for the SHADES trial. Everything the participants learned was to be applied in this trial.
The trial involved 2 students who sent an email to a teacher threatening to shoot up the school at a specific time and to sexual acts to the male teacher. The teacher reported it to the administration fearing for his own safety and the rest of the kids safety. A search was conducted in one of the students homes no weapons were found. One of the two students was charged for a hate crime and 422 (PC) Making a criminal threat.
The student jury asked as many questions as they could and applied the skills they learned in the workshops and activities. The jury reached a verdict and found the student not guilty. They did not have enough information to find him guilty but they have the parent advice and suggestions for his punishment.
After going through a successful week full of learning useful information the students who participated in SHADES hope to bring their newly polished skills into the school's Teen Court program.