Cross Country Adds New Coach To Prep For Upcoming Season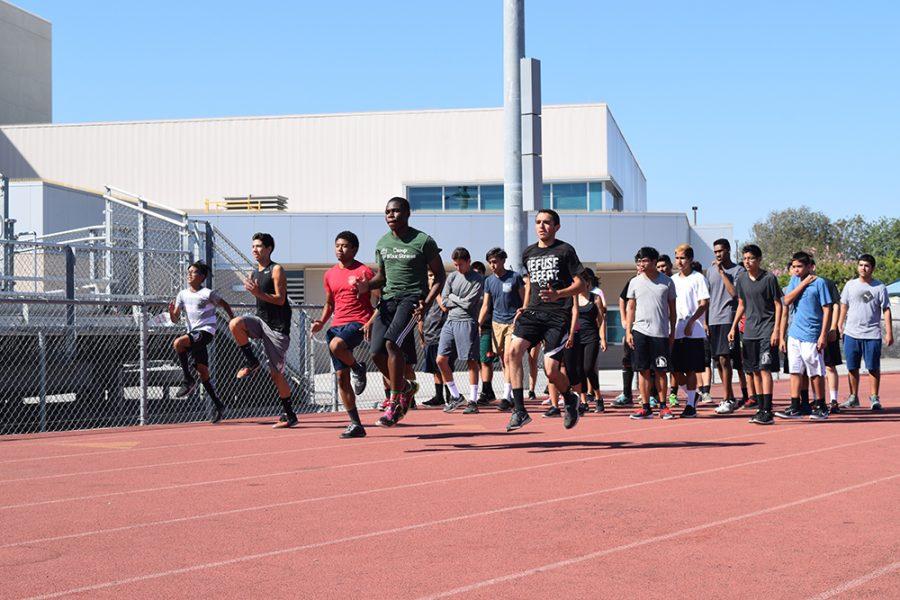 Jocelyn Velazquez, Staff Writer
September 20, 2016
The runners know it: That quiet and intense moment when all the runners are waiting for the official to fire his gun, to hear that exotic pop, to take off with all they got. The tiring and competitive challenge of the three mile race, in a crowd of cheers encouraging them to finish with all the energy they got.
This season Rancho's cross-country team has more than doubled the amount of runners, going from 19 last year, to right around 40 this upcoming season. It was a bit of a shock for all the previous runners now that they were apart of a bigger team than what they experienced, last year.
"The hardest part about running three miles is when your body gets tired, or your mind starts telling you to stop and you're nowhere close to being finished. I really think that the new members should realize that so they can improve their times at every meet.", said Junior Rahman Oladipupo, after his cross country practice.
Since there are a lot of new runners on the team. That also means that the team had to get a second coach. The new coach is Coach Buck, he is also one of the coaches for the track team.
He also participated in cross-country when he was in high school. This is his first time coaching a team this big and he knows that it's going to be much more of a challenge, than his prior experiences.
He also provided advice for those who are still interested in joining the team.
First, come on out at three o'clock; Monday through Friday, get a packet form and finish your physical.
Those who are interested in joining can find the cross-country team at Dominguez Park or at the football field, after school, the two places they practice.
"My ultimate goal is to just do better than I've done the previous years and keep improving my times, so in every meet I will improve not just my time but stamina", said Rahman.
In short, Cross-Country is set to have a very interesting season due to the large amount of new faces on the team and remember if you'd like to join follow Coach Buck's tips. Their first meet will be at Elysian Park, on October 8th.