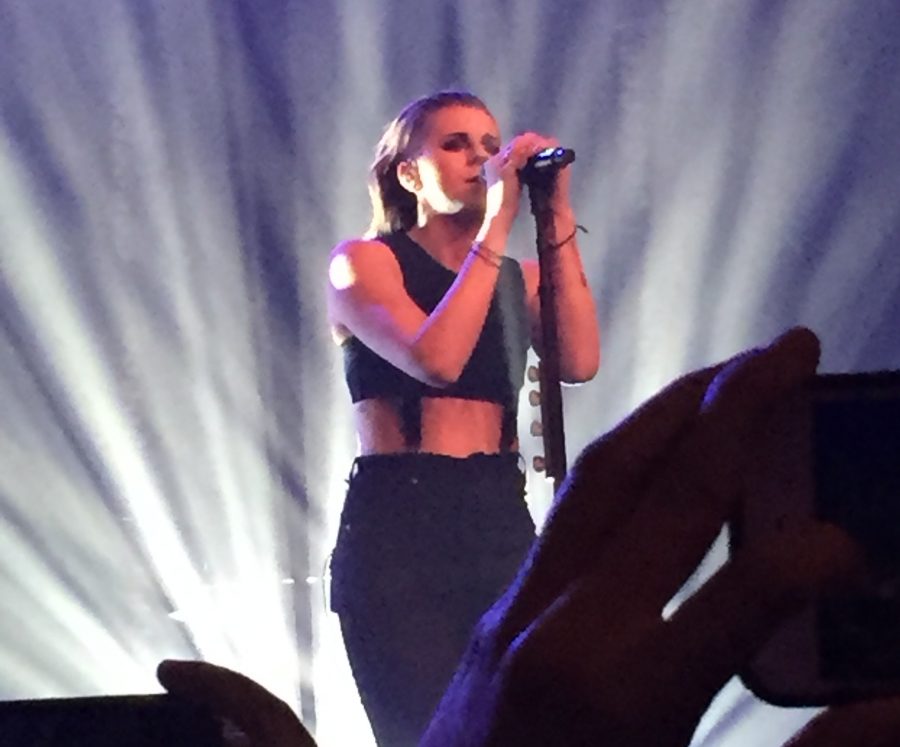 The line seemed like it would go for miles on end, and our anticipation was through the roof. We constantly checked the time, counting down until the doors would open. Each step we took was one step closer to experiencing the concert of a life-time. As we walked through those doors, we knew we wouldn't be ready for this.
It was surreal that a few months ago we were counting down the days and now it was here. It was only a matter of minutes until it began. Once the lights turned off, this was the start of something we would never forget.
Weather set the stage, an alternative pop-like band that brought a groovy vibe to us all. At the moment they were an unknown band to us and many others, though after they played a few songs off of their "What A Drag" EP, they definitely won the crowd over. CRUISR, another small band, followed, but was familiar to many others. CRUISR was a crowd pleaser, they had us all dancing to the music and enjoying the positive energy in the air, with an alternative feel to their music.
The last band to open up for PVRIS was Lydia, they used lights that made their figures look like shadows, not displaying themselves like the previous bands. Lydia got the crowd singing and anticipated the audience for the headlining performance, PVRIS.
PVRIS, performed many different songs off of their album "White Noise."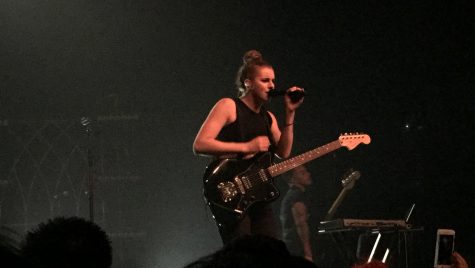 During the show, front woman Lyndsey Gunnulfsen or "Lynn Gunn" asked for the audience to turn off cell phones during the song "Holy". She believed that many people recorded the whole show rather than enjoying this incredible experience. Lynn had thought that too many people were recording the show instead of enjoying it.
A few songs after, the band had played "You and I", and everyone was sharing a beautiful moment with the lead singer, herself.
There were many enjoyable parts to the concert. The two of us can't even decipher which parts we like the best. Not a single dull moment was brought upon during the set, but the best moments for us, was when PVRIS had played their songs, "My House", "Holy", "Let Them In", and "Eyelids." The band's stage presence during these songs in particular was absolutely impeccable.
"Holy" and "Eyelids" were two of the softer songs that were on the setlist, and the vocals were stunning, and the moment almost brought tears to our eyes when the crowd sung back every lyric in harmony. Lynn evidently has the voice of an angel and to combine it with a full auditorium of people simgimg along her singing is something we could only describe as an other-worldly experience. Last but not least, PVRIS had ended their encore with their single, "My House".
Ending the show with this song was probably the best way they could've done it. It had sent a wave of electricity through the crowd and everyone was vigorously flailing to the music.
Overall, this was a day to remember, it was very different fro, concerts we us had attended because we were so used to seeing heavier bands play live. The experience was certainly one for the books, never forget those significant moments that made this and we'll show unreal. Words can't even explain how amazing it was to see PVRIS in person. Being in an environment where everyone was brought together is something we could never forget, and we're both glad we got to experience it with each other.