Volleyball game against Elizabeth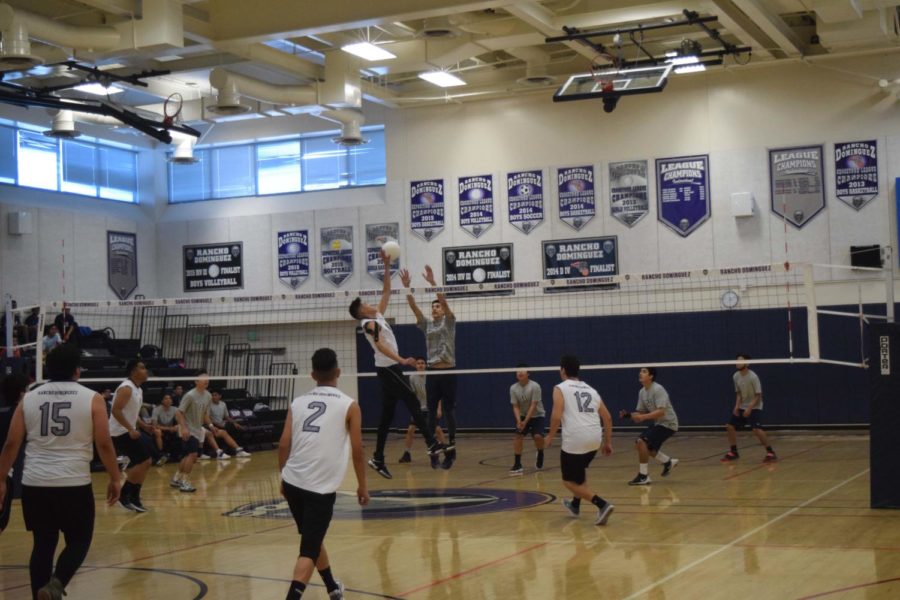 Renz Dungo, Web Editor
April 8, 2018
Volleyball season has just began and the Lobos have had a slow but developing start from the looks of it. The start of the preseason opener ended in a relatively close defeat against Artesia with a score of  3-2. As for their second game against Elizabeth on their home court, the team experienced a tough loss.
The game started off slow, but one notable highlight was from Senior Cesar Maldonado who gave give his fellow teammate, Senior Christopher Sanchez, an easy spike to get the scoreboard to 13-4, the Lobos however were still down 9. The lead upholded by Elizabeth was in no way slowing down, their offense kept bombarding the Lobos' defense that lead to the set ending 25-8.
The 2nd set had the Lobos start with the ball, they quickly took advantage of their possession and scored first with a strong spike by Sanchez. Shortly after with the momentum and the exciting cheers on their side, there was a great serve from Maldonado who got an ace against Elizabeth's defense which carried out the lead to 2-0.  However, despite the seemingly protected lead, there were countless mistakes that was a result of miscommunication. This ended the second set 25-15, in favor of the opposing team.
To create an image, there were two sets that Elizabeth had gloating rights to, it was apparent that the Lobos were frustrated. Who wouldn't be. They entered the last set with eagerness but little did they know, they faced another struggle as they trailed off to an 10 point deficit. Maldonado was agile on the court and had smart blocks against spikes. After, Senior Javien Sahaba hit a tip right into an empty space that gave the team a point on the scoreboard. Despite their efforts, the game ended 25-11 with the Lobos losing all three sets.
"We didn't expect much with the few games we were playing as a team, other teams have been playing longer and we barely got new players who entered varsity. Our coverage was bad," said Sanchez  about the defeat. So from the looks of it the team is already at a severe disadvantage, but of course this game was part of preseason so the team will undoubtedly take notes from this loss.
"Our passing and coverage wasn't as good as we wanted it to be. We could of done better with it." said Senior Alex Rodriguez
A great play of the game was near the end of the 3rd set where Elizabeth scored after a back and forth affair with many spikes and receives that ended by a shank. It was an impressive display of the Lobos' defense.
Sanchez and Rodriguez both agreed that Maldonado was the player of the game, "he was getting some good blocks, he had the best blocks. He had great hits and had really nice receives from downballs."
To Coach Ray he saw that  Rodriguez undeniably stepped up and rose to the occasion when his team needed him most, "he slid on the floor and all over the place, and showed great effort. He still needs work but I think he's the one who did the best this game."
In the end the players can only improve from here, especially in their coverage as mentioned. it wasn't an entirely great way to start off their first home game but in every loss the saying goes "It isn't the hours you put in, but what you put in the hours."