March Movies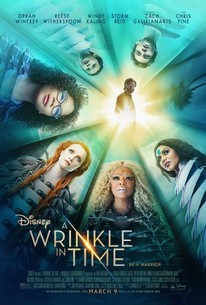 A Wrinkle In Time
         Release Date: March 9
         Rating: PG
         Based on the book by Madeleine L'Engle, A Wrinkle In Time follows Meg Murry, a young girl who sets off on a quest to save her missing father from a universe-spanning evil, aided by her younger brother, her new friend, and three astral travellers. The film stars Storm Reid, Oprah Winfrey, Reese Witherspoon, and Mindy Kaling in the lead roles. So far, the film boasts incredible special effects, an all-star cast, and an interesting storyline. The story contains many fantasy and sci-fi elements that seem to promise a movie experience like no other. Whether you're a fan of the book or not, this is definitely a movie worth checking out in March.
The Strangers: Prey at Night
         Release Date: March 9
         Rating: R
         The Strangers: Prey at Night is an upcoming horror film, and the sequel to 2008's The Strangers. The plot follows a family that gets trapped in an abandoned mobile home park and are stalked by three masked killers who intend to push them to their limits. The film stars Christina Hendricks, Martin Henderson, Bailee Madison, and Lewis Pullman. The film contains elements from classic slasher films, psychological thrillers, and the somewhat overdone masked killer genre. As is to be expected of horror movies, the film promises lots of scares, violence, and death for both its protagonists and the audience. This is one to check out if you're a fan of all things spooky.
Pacific Rim Uprising
       Release Date: March 23
       Rating: PG-13
       The sequel to 2013's Pacific Rim, Pacific Rim Uprising follows Jake Pentecost as he joins a team to battle a monster known as a kaiju, save humanity from extinction, and preserve his father's legacy. The film stars John Boyega, well known for his role as Finn in Star Wars, Scott Eastwood, Cailee Spaeny, and Charlie Day. Like its predecessor, this film is packed with action and epic battles. The movie combines action, sci-fi, and monster movies into one big showdown that will hopefully live up to the first film's hype.
Ready Player One
      Release Date: March 29
      Rating: PG-13
      Based on Ernest Cline's novel of the same name, Ready Player One is a sci-fi film that takes place in a distant dystopian future where the people of Earth have access to the OASIS, a world that exists within a virtual reality.The story follows teenager Wade Watts as he sets off on a race to find an Easter Egg hidden within OASIS by its late founder and claim the riches it will bring to its finder. The film stars Tye Sheridan, Olivia Cooke, Ben Mendelsohn, and T.J. Miller. The film is visually stunning and unique in its premise, and seems to be full of action and adventure. The film shows how far we can go with virtual reality technology, the amazing things we can accomplish with it, and the dangers such technology can bring. This movie definitely looks like it will be worth seeing this month, whether you've read the book or not.