Rancho hosts first ever UCLA Blood Drive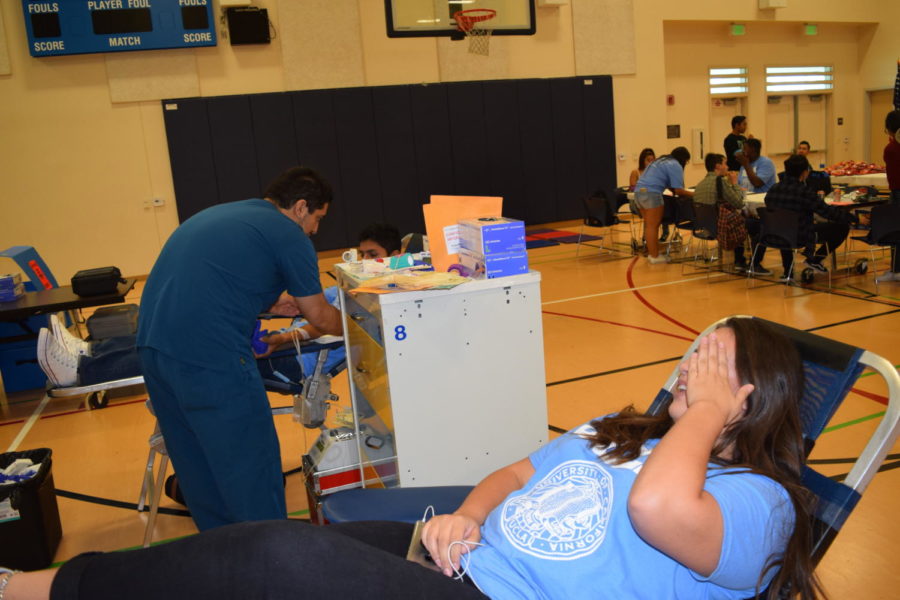 UCLA Blood and Platelet Center hosted its 42nd annual blood drive at Rancho.The Platelet Center travels around to different school campus and arranging blood drives to add to their databasehelping patients at UCLA associated hospitals in the Harbor area and west LosAngeles
This year, leadership partnered up with UCLA instead of the Red Cross, theschool's' blood drive sponsor for the past five years. A big player in organizing this event was first year leadership advisor and English teacher Ms. Angelica Flores, who several years ago partnered up with the UCLA Blood and Platelet when shewas the leadership advisor for Banning High school
"I used to do blood drives at Banning and we collected around 200 pints everytime we'd have blood drives. Since Rancho is smaller our goal here is 60 pints," said Ms. Flores. When first setting up the blood drive they were weren't sure on logistics, but after seeing the average collected by other school they landed on a goal of 60 pints.
"I was really excited and happy that we were approved to have a blood drive here, since we've never had a UCLA blood drive before at Rancho." Ms. Flores said
Unlike the Red Cross students get to be more involved in the blood drive and running the overall event, which is a way for leadership students to better understand how to work a blood drive and get very involved in the event," said Flores.
"I have fun, this is one of my favorite activities to do. The leadership students and other students are very involved in this event," she added.
Another key player in setting up this event was the leadership Commissioner of Health and Welfare, junior Kaye Tolentino. "I think it went well having a UCLA blood drive for the first time, there weren't any injuries and or big problems making for an overall very successful event," said Tolentino.
As aforementioned, the goal for the UCLA blood drive was 60 pints, but overall the leadership class ended up collecting 67 pints, which can be used to help 248 people. Over 40 people were turned away not being able to donate. Overall, this was quite an experience in which the donors and organizers had a positive response and were happy to donate and encourage others to donate to help the greater Los Angeles area.